By Forrest Wright
The world is still very much in the grips of the COVID-19 pandemic. Yet at the same time many economies are starting to grow again, providing entrepreneurs a chance to return to previous operations. Some entrepreneurs will even be looking to pursue new opportunities, in response to both the recent economic growth as well as the new realities introduced by COVID-19.
To put some perspective on the recent growth, it is worth comparing economic performance in 2020 to 2021 thus far. Of the 43 teams that participated in the 2020 GEM Adult Population Survey (APS), 38 experienced negative GDP growth in 2020. However, in 2021, all 43 of those same economies are projected to experience positive annual growth, according to International Monetary Fund projections from May 2021. The GDP growth for each participating GEM economy is provided below with the teams listed alphabetically by region: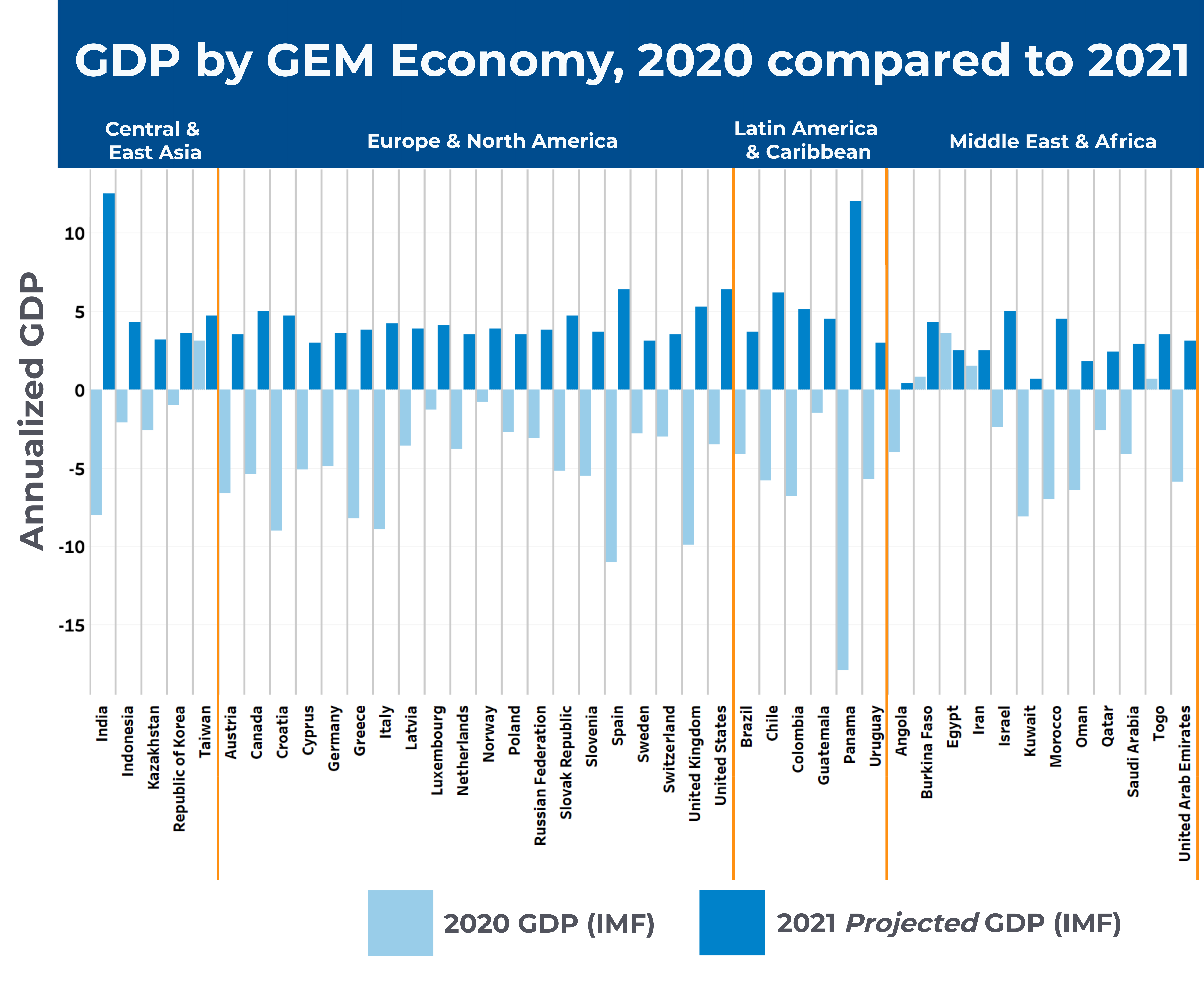 The stronger macroeconomic performance of GEM teams in 2021 will certainly offer new business opportunities, particularly for entrepreneurs looking to capture the current economic momentum. However, while economic conditions have improved, there is substantial risk in continuing or pursuing a new business as the pandemic still threatens the public health of most regions. Uncertainty continues to weigh heavily on entrepreneurs' decisions.
To better understand how the pandemic has already impacted entrepreneurship, consider GEM's 2020 research results. Entrepreneurs and the general population of 43 participating GEM economies were surveyed to determine the role COVID-19 played in their decisions and motivations for starting or stopping a business, and if they saw opportunities in this moment. The results, published in the 2020/21 GEM Annual Report, provide a critical baseline for future research on the pandemic's impact on entrepreneurship. Some of these findings will be discussed below.
The first indicator is the impact of the pandemic on household income. Below, we see how the proportion of adults aged 18-64 indicated that the pandemic had a negative impact on their household income. The negative impact was much higher than those who indicated a household income increase in about all participating GEM economies.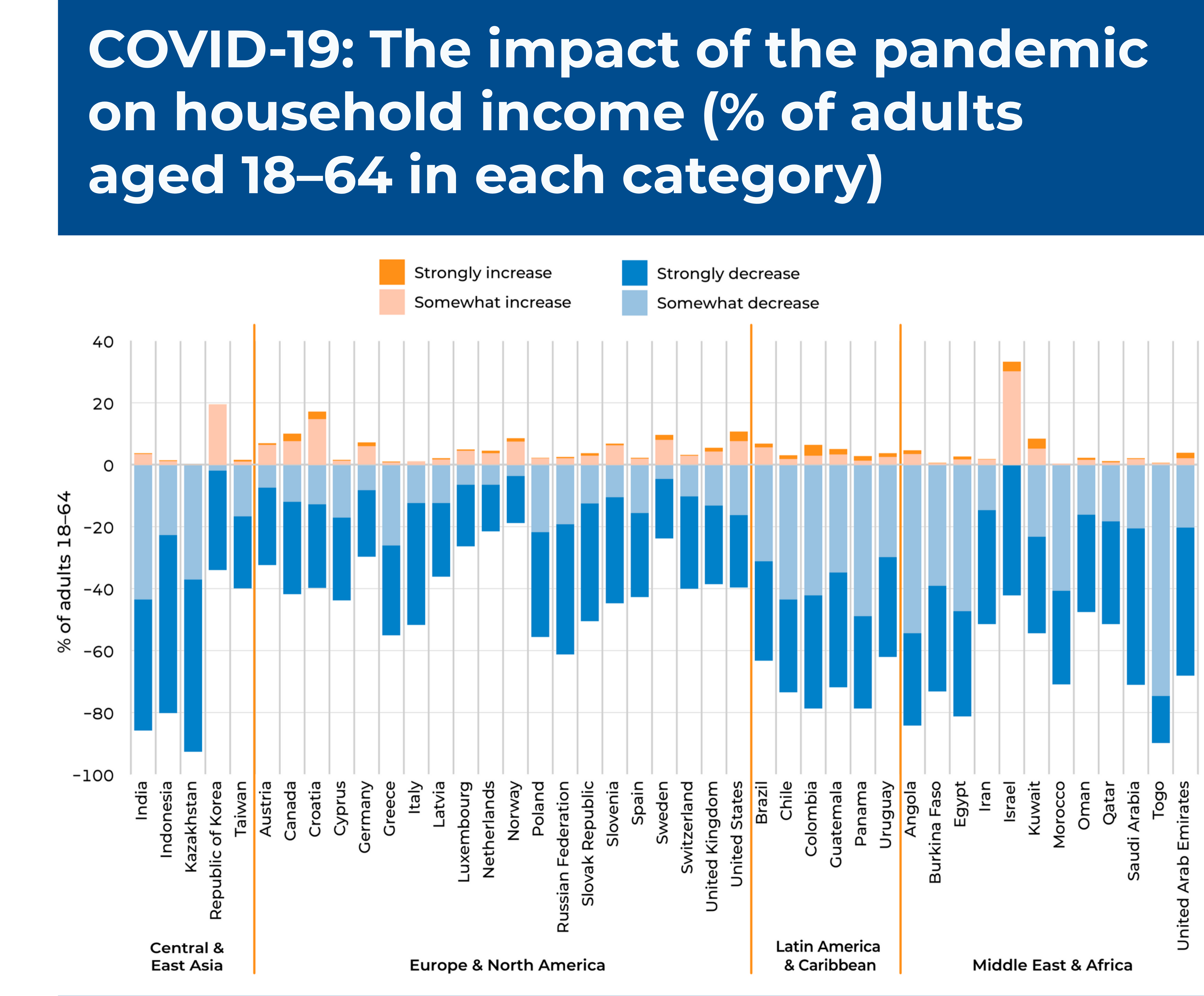 Of course, this level of impact on household income would in many cases discourage an entrepreneur from pursuing a new opportunity, while in other cases it might necessitate someone to pursue entrepreneurship out of necessity to make up that lost income.
The chart below suggests that in the vast majority of participating GEM economies, the pandemic made more people close rather than start a business. This could be due to COVID-19 related restrictions, health reasons or because of the economic contraction that caused their business to close. Clearly, the pandemic had a significant negative impact on this indicator.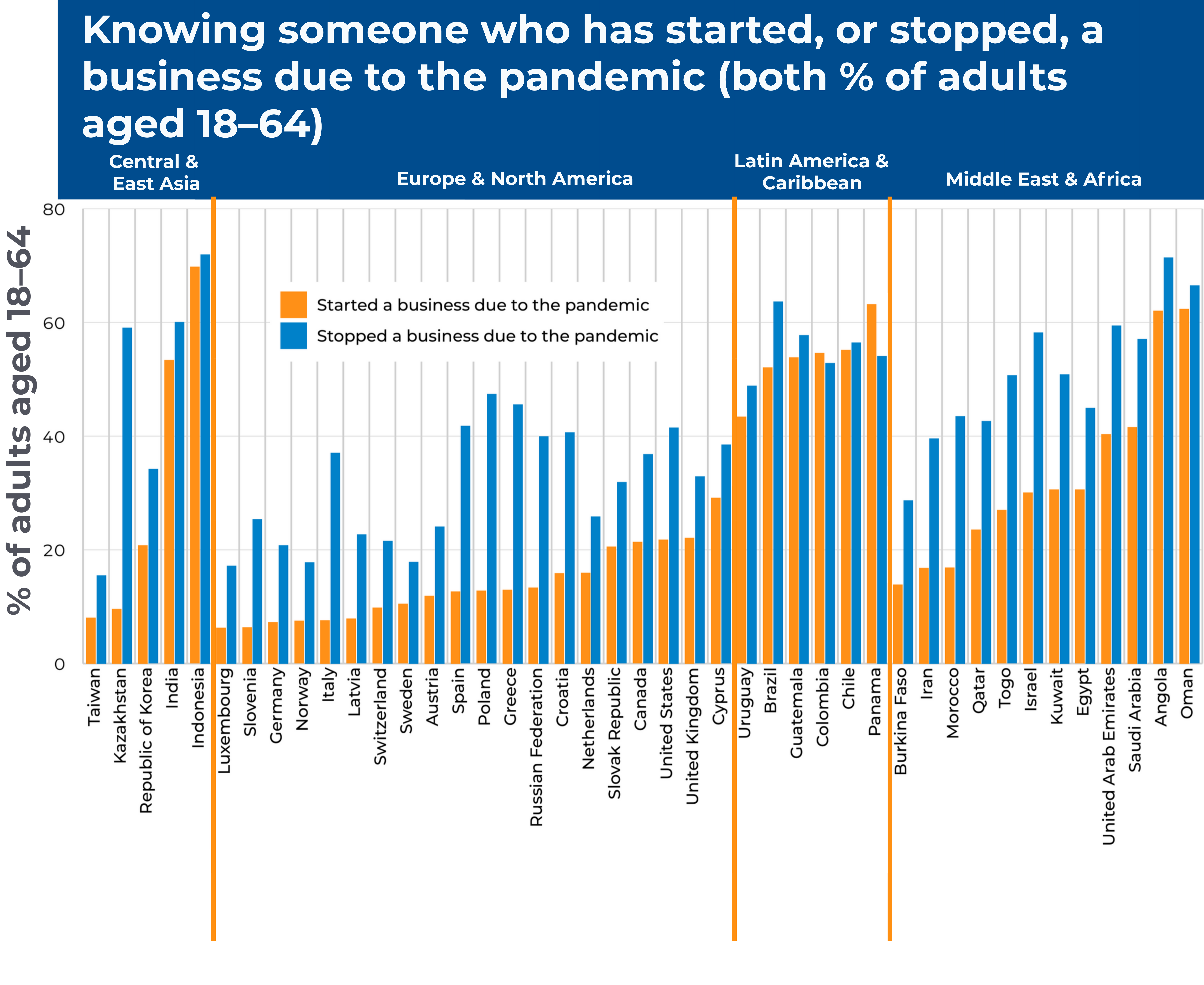 The pandemic's impact can also be seen in the Total Early-Stage Entrepreneurial Activity (TEA) rate, which measures the percentage of adults in a participating GEM who are actively starting a business within the first 42 months. From 2019 (pre pandemic) to 2020, many of these rates fell. This is a broad measure and can reflect many factors beyond the pandemic. Additionally, not all regions experienced the worst affects of COVID-19 simultaneously. While most data collection was done in June 2020, economies were at different stages of grappling with COVID-19. This could result in businesses closing or new ones starting out of necessity. However, again, this provides a good baseline for measuring entrepreneurship rates over time as the pandemic continues its impact.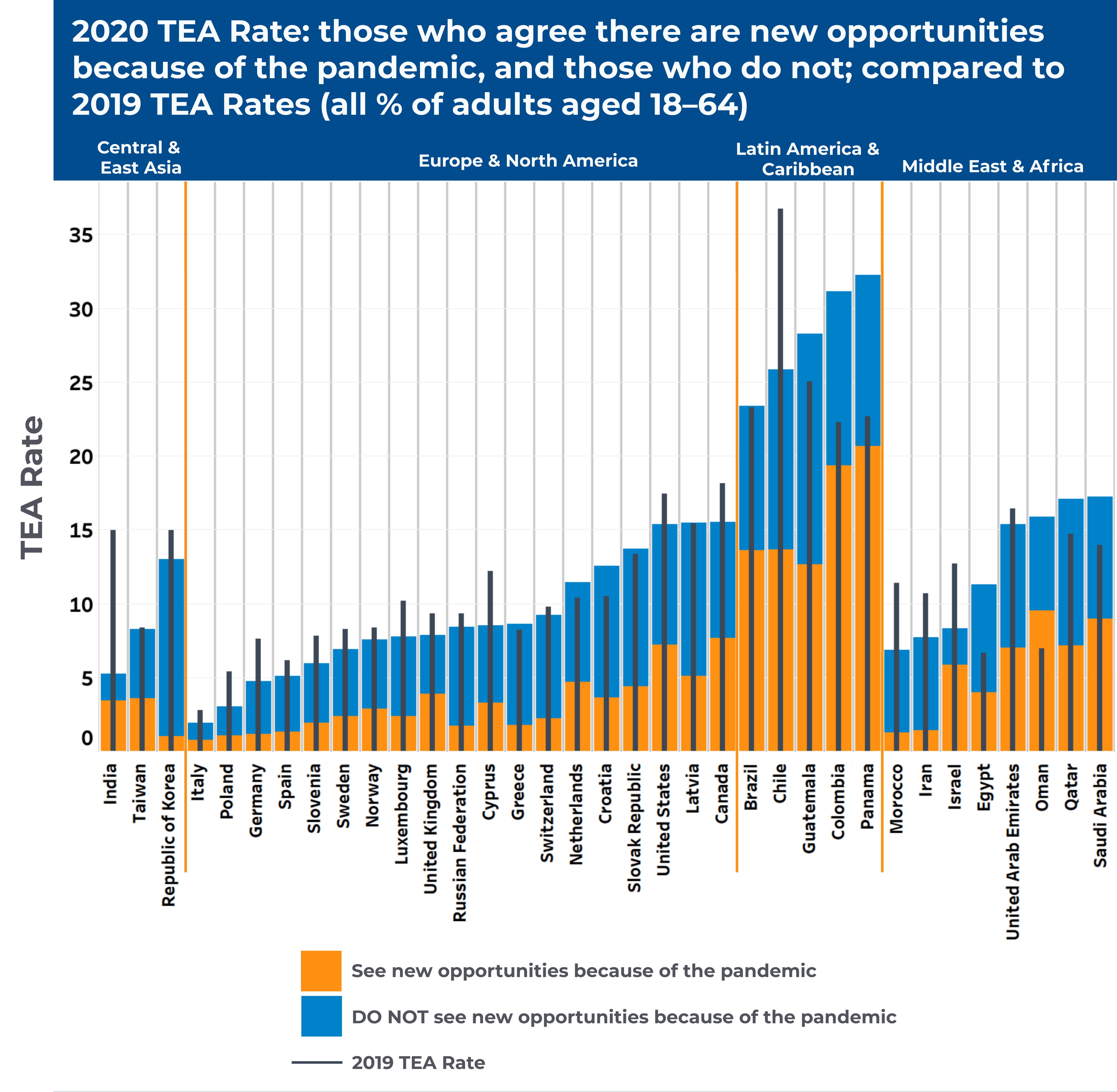 However, GEM teams also had asked more in depth questions about how the pandemic impacted entrepreneurship, including if early-stage entrepreneurs saw opportunities as a result of the pandemic or not. When we compare these responses to the overall TEA rate in 2019, we see a deeper picture of how the pandemic may shape future entrepreneurship.
Below, the 2020 TEA rate is divided in the early-stage entrepreneurs respondents' assessment of whether or not there are new opportunities as a result of the pandemic, with the black line through each bar representing that economy's 2019 TEA rate. The result is seeing which economies experienced an increase or decrease in early-stage entrepreneurship, and what percent of the 2020 rate might be encouraged or discouraged by the new pandemic realities.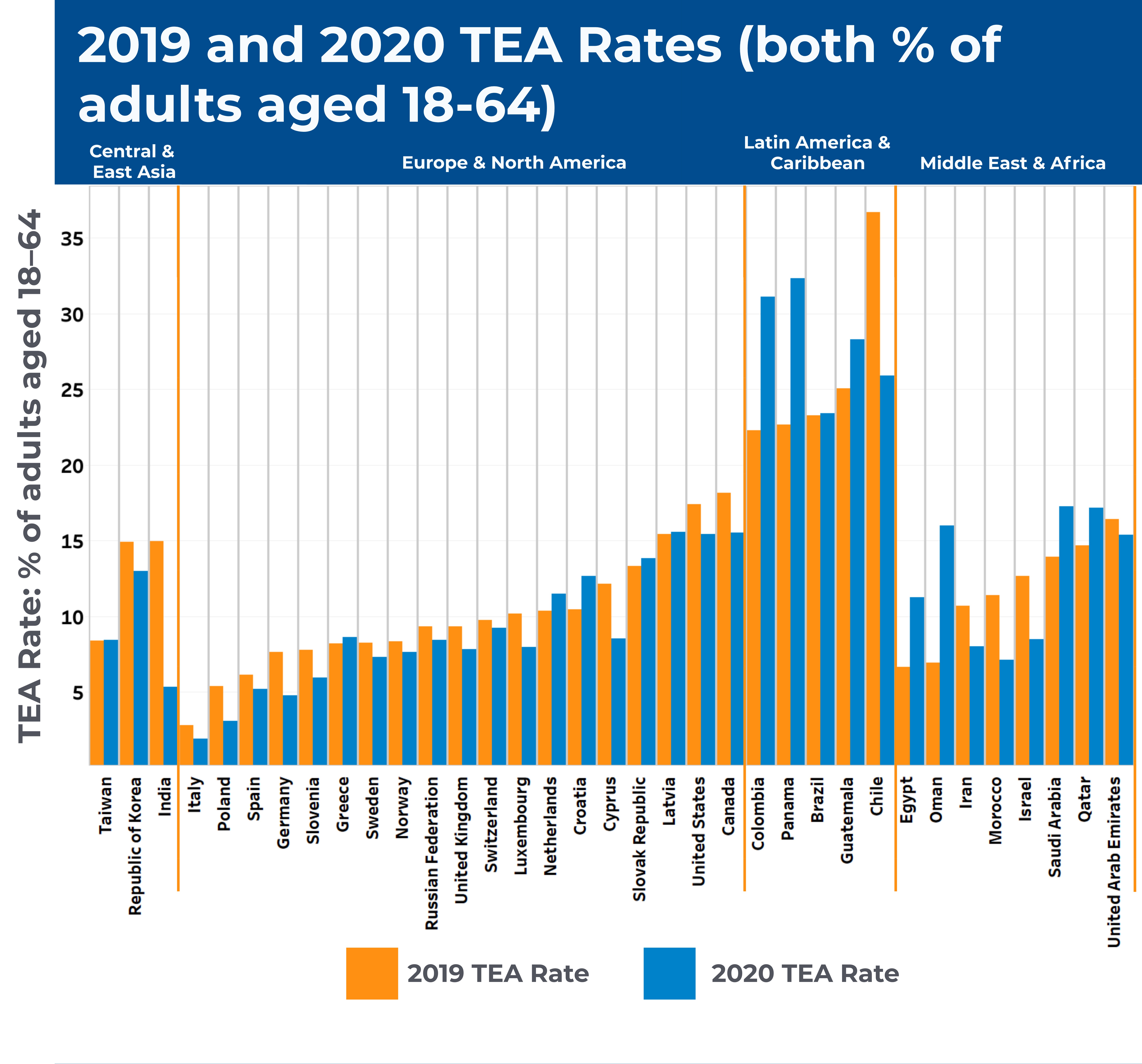 Several additional questions should be considered:
In terms of economic activity, was COVID-19 a short-term event?
Should most entrepreneurs not be further taking the pandemic into account in their business plans?
The 2020 data helps provide a critical baseline for starting to answer these questions – though more years of data will be necessary to form a clearer answer. Once we compare the pre-pandemic results to 2020, and then beyond, we will be able to see which economies improved their entrepreneurial activity, and if those economies were ones in which entrepreneurs saw opportunities. Hence why the subsequent years of GEM research are critical. So stay tuned to our latest research!
Forrest Wright is Data Manager for the Global Entrepreneurship Monitor.