The terms gig and sharing economy are relatively new, evoking a range of responses and a certain degree of confusion. To some, the gig and sharing economies represent an opportunity to control their own hours while pursuing some other priority like starting a business or tending to a family. To others, the gig economy is a precarious and unpredictable employment situation for the underemployed.
What is clear is that the gig economy will play an increasing role in most people's lives over the coming years. And yet, not much data exists on its role in a country's economy and entrepreneurial ecosystem. To aid in this effort, 27 GEM economies asked their survey participants if they have received income from paid work obtained via a digital platform in 2018. The purpose was to determine the extent to which people participated in the gig economy, and then to compare those figures to other GEM indicators of entrepreneurship.
The gig, or sharing, economy is defined by GEM as performing service work (such as deliveries, translation, or personal care) via a digital platform, with the best known examples being TaskRabbit, Foodora, Uber, Airbnb or Grubhub. Below are the 27 economies, according to their population's participation in the gig and sharing economy:
Active in gig or sharing economy 2018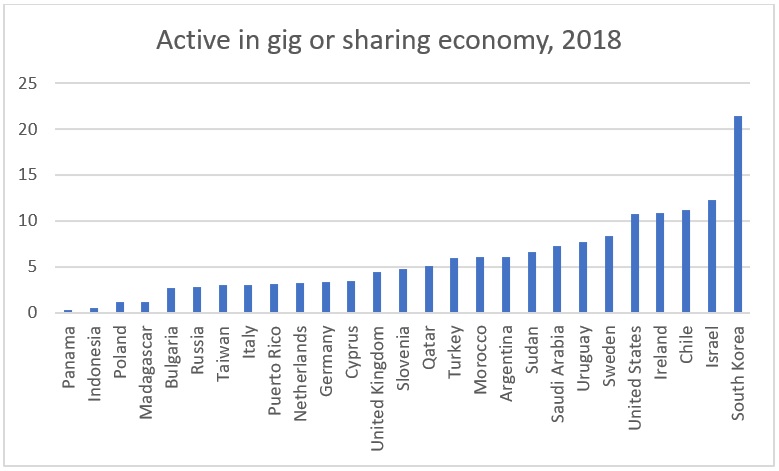 As the graph illustrates, participation in the gig or sharing economy varies greatly around the world and does not seem to depend on an economy's development level (high income economies have both high and low participation rates). This makes sense as app-based technology spreads unevenly among countries and mass participation in the gig economy may depend on an economy's employment picture and local regulations. Uber and Airbnb are banned in some economies and have had well-publicised problems in certain major cities like London and New York.
The gig economy data becomes more interesting though as it gets compared to other data collected by GEM economies. Below is a graph illustrating participation in the gig and sharing economy, compared to the rates of nascent entrepreneurs in those countries, defined as someone who is currently setting up a business: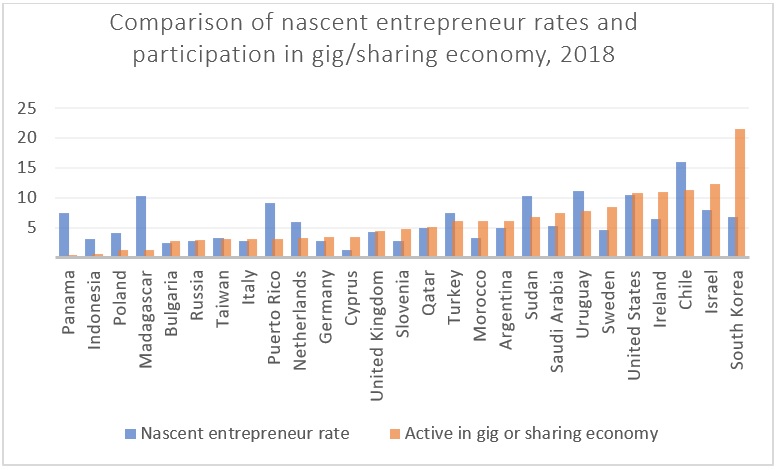 Again, there is variance along development levels, but insight can be gleaned by comparing the instances where nascent entrepreneurs are clearly not active in the gig or sharing economy. And interestingly, there are some cases such as Cyprus, Sweden and South Korea where individuals are active in the gig or sharing economy against a backdrop of relatively low nascent entrepreneur rates.
Another GEM indicator worth comparing is the entrepreneurial intention rate, defined as individuals who plan on starting a business in the next 3 years: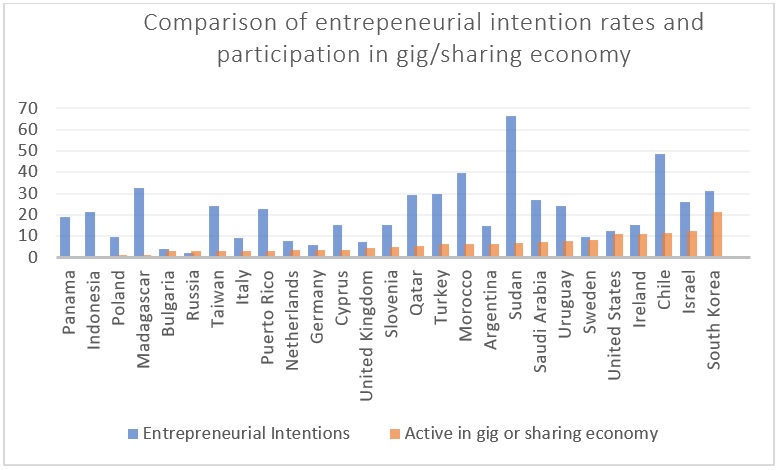 At first glance the yawning gaps between entrepreneurial intention and participation in the gig economy stand out. It should be noted though that lower income economies tend to have much higher rates of entrepreneurial intention as steady job opportunities are scarce. This invites the question as to whether an increase in gig economy opportunities would satisfy some of those individuals' intentions and the rates would move closer over time.
In higher income economies, there is a mixed story: in Taiwan for example, entrepreneurial intention (24.1%) is 7 times the rate of gig or sharing economy participation rate, even though it has a lower level of nascent entrepreneurs (see chart above - 3.2%). While in the United States, nascent, intention and gig/sharing economy participation rates are nearly the same.
The range of gig and sharing economy rates suggest that each economy has had a unique experience with this new technology. Some may be regulating this area, while in some instance the technology may not be readily available. In some instances, cultural factors may be at play, such as privacy concerns. By GEM collecting the data on participation it is at least possible to actually see the extent to which this new dynamic is playing a role in multiple countries.
More analysis of this data can be found in section 3.4 of the recently published GEM 2018 / 2019 Global Report. Expect more discussion on this important topic when GEM publishes a special report on the gig and sharing economy later this year.
Analysis by Forrest Wright (GEM Global Data Team)