In 2017, almost half (48.9%) of the global total surveyed adult population stated they had the skills and knowledge to start their own business. This is consistent with past years' results, which have typically ranged from 48% to 52% of surveyed individuals expressing confidence in their entrepreneurial abilities according to GEM data.
Yet despite this consistency, the data varies depending on the participating country. Often, a country's development level is closely related to their population's entrepreneurial perceptions.
In the aggregate, countries at higher income levels, categorized as "innovation-driven" economies tend to produce lower confidence levels when it comes to starting a business. Individuals from lower income countries, categorized as "efficiency" or "factor" driven economies tend to be more confident in their entrepreneurial abilities.

For the 35 countries that participated in GEM's surveys for the past five consecutive years, the 16 innovation-driven countries averaged around a 43% positive response to the question, "do you believe that you have the required skills and knowledge to start a business?" However, the remaining 19 efficiency and factor driven economies averaged a 53% positive response to this question.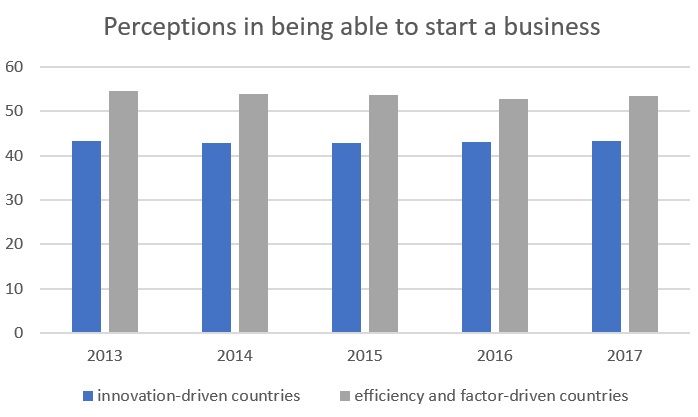 While it may be assumed that the advanced skill and education rates of high-income populations would make individuals in these countries more confident in their ability, the reverse is actually true.
As countries progress in income status, the level of skill required to start and maintain a successful company that can compete against established firms is higher than those in low income countries. This would likely cause people in high income countries to feel less confident in their abilities to become entrepreneurs relative to the commitment required.
In lower income countries, where new businesses may not need to be as specialized as in higher income countries, more people may feel they have the capabilities to become entrepreneurs. Of course, this is not the case for all high- and low-income countries; some high-income countries such as the US and Canada have higher levels of perceived entrepreneurial capabilities than their peers; and some low-income countries have lower levels of perceived capabilities.
Unique factors such as cultural norms and government regulations (captured by GEM in its Entrepreneurial Framework Conditions) also influence a population's perceptions.
Recent research supports the general rule of the high-income/low capability perception paradox. A study from Beynon, Jones & Pickernell (2016) using GEM data found that high income countries tend to have lower levels of successful entrepreneurship as a result of their diminished perceived capabilities. Conversely, for many lower-income countries, high entrepreneurial rates are strongly related in part to their high capability perception.
Analysis by Forrest Wright (GEM Global Data Team)